Home
On Line Shop
Add To Favourites
About Us
Contact Us
Terms & Conditions
Links
Wildlife News
Wildlife Cameras

Making a Woodland Garden
Even the smallest garden can incorporate a woodland habitat. Think in terms of a three tier system, the top layer is larger trees. the second layer is made up of small trees and the third layer is woodland shrubs. In a a small garden only two layers are planted - the small trees become the top canopy and the shrubs become the underplanting. Native trees and shrubs support a greater range of wildlife.
Recommended woodland plants.
Beech (Fagus sylvatica), Elm (Ulmus procera), Oak (Quercus robur), Lime (Tilia cordata), Hornbeam (Carpinus betulus), White willow (Salix alba), Wild cherry (Prunus avium).
Alder (Alnus glutinosa), Silver birch (Betula pendula), Downy birch (Betula pubescens) Field maple (Acer campestre).
Bird cherry (Prunus padus), Crab apple (Malus sylvestris), Rowan (Sorbus aucuparia), Whitebeam (Sorbus aria), Hawthorn (Crataegus monogyna), Holly (Ilex aquifolium), Hazel (Corylus avellana), Guelder rose (Viburnum opulus), Dog rose (Rosa canina), Dogwood (Cornus sanguinea).
Recommended Woodland flowers.
Common dog violet (Viola riviana), Foxglove (Digitalis purpurea), Lesser celandine (Ranunculus ficaria), Lily of the valley (Convallaria majalis), Primrose (Primula vulgaris), Stinking hellebore (Helleborus foetidus), Wood anenome (Anenome nemorosa), Wood cranesbill (Geranium sylvaticum), Wood forget-me-not ( Myosotis sylvatica).
Camera Nest Box System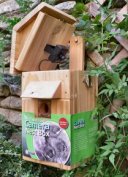 This multispecies Camera Nest Box is adaptable to allow the most fantastic sharp images of wild birds nesting. The heavy duty hole protector prevents predator damage by Squirrels and Woodpeckers. The box is made from durable FSC timber and has a hinged easy access to the camera unit, without disturbing the birds.
Available to purchase on line here.
Wildlife Surveillance Camera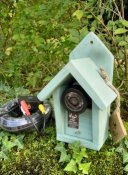 This exciting wildlife surveillance camera kit will enable you to get close to your favourite garden animals, birds and insects from the comfort of your own home. It is made to our normal high standards and comes complete with instructions, camera, cable and fittings. It will make the perfect gift for the budding wildlife enthusiast or the experienced naturalists alike.
Available to purchase on line here.
Camera Kit

Features excellent value DIY day/night camera system, with black and white/infared camera. Ideal to fit into your own bird boxes, hedgehog houses, pet houses, barns etc. Included 60ft cable, transformer and scart.
Available to purchase on line here.