Home
On Line Shop
Add To Favourites
About Us
Contact Us
Terms & Conditions
Links
Wildlife News
Wildlife Cameras

Composting
There are a large range of compost bins available on the market today. Once you have chosen one that suits your requirements, you need to follow some basic rules.
Use an organic compost activator to speed up composting. Garotta is available in both liquid & granular form.
Use a dusting of lime every 12 inches of compost to keep the compost 'sweet' & speed rotting.
Try to include other items with your grass cutting to ensure good aeration.
Choose a sunny site for quicker composting.
Don't use weeds with pernicious shoots or roots, scraps of meat, brassicas with Clubroot, top growth of main crop potatoes, coffee grounds, diseased material, woody prunings, weed seeds.
Compost leaves separately. They need air, light & at least a year of patience.


Compost Bin.
Pressure treated timber. 10 year guarantee against rot. Flat packed with colour label. Log diameter: 7.5cm. Made from premium FSC timber. Box size: 1 x 0.5 x 0.13 m. Weight: 28.8 kg. Available to purchase here.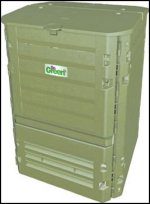 Thermo King 900L
The Thermo-King is a premium composter made from Thermolen®, a thermally-insulating material.
Thermolen is created from HDPE which is "foamed" to give better insulating properties. The heat generated by the composting process is retained inside the bin, speeding up the breakdown of the contents.Available to purchase here.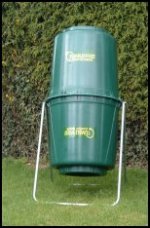 Tumbleweed Tumbling Compost Maker
Symmetrical double ended design gives easy tumble action and takes the strain out of composting. Vented lids at each end maintain aeration and make it easy to empty. No loss of nutrients. Vermin cannot get in.Available to purchase here.

Worm Farm
Recycles kitchen scraps. Consists of two boxes, the top one where worms eat and breed, and the bottom box into which liquids drain. Neat, compact and portable. Produces worm castings that make a good soil conditioner and fertiliser. Worms not included.Available to purchase here.