Home
On Line Shop
Add To Favourites
About Us
Contact Us
Terms & Conditions
Links
Wildlife News
Wildlife Cameras

Attracting Birds
Wildlife is under threat from modern monoculture farming, urbanisation and pollution. With natural habitats destroyed, birds have become reliant on our gardens for survival. Quite apart from the delight of birdwatching, birds are, on the whole, greatly beneficial to the gardener, looking for snacks and controlling pests that spoil our plants.
Traditionally, we tend to think of bird feeding as a winter activity. However, recent studies have shown that owing to dwindling natural food resources, birds are finding it every bit as difficult to survive at other times and you supply may be their only lifeline. It is important to only feed peanuts from a wire mesh feeder to ensure only small pieces can be removed, especially through the breeding season.
Choose a variety of feeding methods to attract the greatest number of species.
Species such as Dunnock, Wren and Blackbird can be fed from ground feeders. Bird protectors are available to provide some protection from predators while feeding. These usually consist of mesh frames that provide protection from cats and exclude pigeons and squirrels.
Bird tables should be placed far enough away from cover to deter squirrels and predators but near enough to provide an escape root for feeding birds. A distance of two metres is ideal.
Tubular feeders are great for tits, sparrows and finches. Seed, seed mixes and peanuts can be used. Ensure they are sited near to cover and, as a general rule, the higher the better. Window feeders can be used that use suckers to attach to glass and permits you to view feeding birds.
Birds need plenty of energy rich food. They eat 30 – 40% of their bodyweight each day to maintain flight fitness. Traditional bird mixes of wheat, barley and oats are excellent for larger birds but have insufficient calorific value for smaller, more active species. The RSPB ranges are been specifically developed for high energy and nutrition. Always store in cool, dry conditions.
To add a new dimension, why not try live foods such as mealworms, a gourmet food that attracts a wide variety of garden birds.
Full Fat Energy Snacks are available to attract an even wider range of birds with high energy treat. Hang or chop up and scatter for more timid species.
A year round supply of fresh water is vital for birds to drink and will increase the variety of visiting birds. Bath watching is an enjoyable and entertaining pastime!


An attractive table for hanging flush on either a wall or fence. The treated wood will last for many years, gradually weathering to fit in with the natural surroundings of your garden. A chain for hanging the table is supplied.
Available to purchase on line here.
No Mess Seed Mix 10kg



For use on the ground, bird tables and in seed feeders. Attracts numerous different birds. Special no grow blend.
Available to purchase on line here.
Robin Seed and Insect Mix 10kg


Attracts robins and numerous other bird species, for use on tables and in seed feeders.
Available to purchase on line here.
Wild Bird Attraction Mixture (Grass Seed)



An attractive grass seed mixture that wild birds find palatable and nutritous. Sit back and watch them feed! Sow April - September.
Available to purchase on line here.
Camera Nest Box System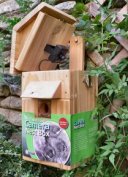 This multispecies Camera Nest Box is adaptable to allow the most fantastic sharp images of wild birds nesting. The heavy duty hole protector prevents predator damage by Squirrels and Woodpeckers. The box is made from durable FSC timber and has a hinged easy access to the camera unit, without disturbing the birds.
Available to purchase on line here.