Home
On Line Shop
Add To Favourites
About Us
Contact Us
Terms & Conditions
Links
Wildlife News
Wildlife Cameras

Making a Bird Garden
The RSPB now approve of all-year-round feeding, but make sure birds cannot take whole peanuts during the breeding season.
Bird Tables and Feeders.
Take care to position the food source away from pouncing cats.
Bird Table - freestanding and hanging.

Fat Bars. - Seed bars, peanut bars and insect bars.

Feeders - Mesh feeders for peanuts and seed tubes for sunflower seeds.
Borders for Birds.
Birds will be attracted to garden plants for seeds, berries and shelter. Plants will also be hosts to many tasty insects.
Water.
Provide a bird bath or a shallow area in your pond.
Bird boxes must be positioned in a sheltered and shady location at least 2 metres above the ground.
No Mess Seed Mix 10kg



For use on the ground, bird tables and in seed feeders. Attracts numerous different birds. Special no grow blend.
Available to purchase on line here.
Robin Seed and Insect Mix 10kg


Attracts robins and numerous other bird species, for use on tables and in seed feeders.
Available to purchase on line here.
Wild Bird Attraction Mixture (Grass Seed)



An attractive grass seed mixture that wild birds find palatable and nutritous. Sit back and watch them feed! Sow April - September.
Available to purchase on line here.
Camera Nest Box System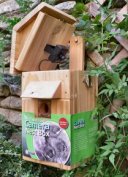 This multispecies Camera Nest Box is adaptable to allow the most fantastic sharp images of wild birds nesting. The heavy duty hole protector prevents predator damage by Squirrels and Woodpeckers. The box is made from durable FSC timber and has a hinged easy access to the camera unit, without disturbing the birds.
Available to purchase on line here.