Biodegradable Pots
Biodegradable garden supplies help protect the environment and conserve resources. Thousands of tons of plastics are dumped around Britain each year, many destined to remain in the environment for over a hundred of years. A "biodegradable" product has the ability to break down, safely and relatively quickly, by biological means, into raw materials of nature and disappear into the environment. These products can be solids biodegrading into the soil (which we also refer to as compostable), or liquids biodegrading into water.
Organic, biodegradable pots are available to gardeners, manufactured from the unique 'Fyba' material. This material is not only more environmentally friendly, it actually encourages healthy root growth., keeping roots warm & moist. The pots can be planted out without disturbing the roots.
Where Clubroot is a problem, plants can be grown in Fyba growpots to be planted out complete. Roots growing beyond the Growpot may develop small galls, but the plants are not seriously affected.
Biodegradable Growtubes are specially designed for sweet peas, beans , onions and all tap rooted plants.
Peat Free Biodegradable Potting Discs are an easy and effective way to re-pot plants. Each disc expands to fill a 6" pot – just add water!
Biodegradable Ring Culture pots are bottomless for growing tomatoes, cucumbers, peppers, melons, chrysanthemums and other plants using the ring culture system. They are ideal where it is difficult to keep plants adequately watered during hot weather. You will be amazed by the results!
This method of growing tomatoes and other plants can be much more effective for the busy individual than the modern approach of using grow bags.
Rings are bottomless pots, generally made from bituminous felt, in which organic compost is placed and the plants are planted.
The composts we have used in demonstrating the 'ring culture' method are Levington multi-purpose compost and/or John Innes No 3.
Traditionally, the rings are placed on a bed of fine aggregate. Alternatively, considerable success has been recorded using a large gravel tray covered with gravel. This allows for this system to be very free draining. The rings are between 230 – 255mm (9 – 10 inches) in diameter and at least 8 inches deep. Stand the rings 455 mm (18 inches) apart on the aggregate
The tomatoes send down roots into the aggregate, which is given a daily drench once the root system is well established, together with a weekly feed. The plants are watered from the bottom via the gravel bed / tray and fed via the pot. This way the plants have a free draining system with water and feed available to the plants as and when they need to take it up.
Use an organic liquid fertiliser for a healthy organic crop. Ensure the compost in the pots are thoroughly soaked first so that the fertiliser does not burn the roots of the plants.
To set up a traditional ring culture bed, dig a trench 150mm (6 inches) deep and line with polythene. Pierce a drainage hole every 1 metre (3 feet) and spread the aggregate evenly on top to a depth of 150mm (6 inches)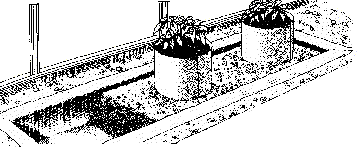 This method prevents the plants' roots from coming into contact with the greenhouse soil – an advantage where there is a known risk of the soil carrying disease organisms.